Built about 1895, the Band Stand was originally situated infront of the Moses Webster house, about where the horse watering trough is now. A few years later it was moved to its present location where the town band gave concerts for the community. Shortly after WWII a group of men from the Lions Club restored the weather worn structure.
In April 2011 a group of local carpenters and 'handy-men' volunteered time and materials and repaired the Band Stand with a new floor, new spindles and railings, replacing other rotten boards, and adding new lighting!
A HUGE THANK YOU TO ALL WHO HELPED!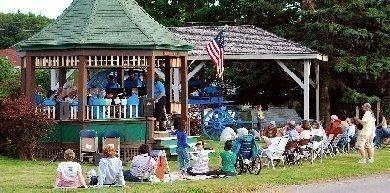 Photo courtesy of C. Blackington