The rehab of the bandstand is almost complete! Check out the slide show below to see the progess!
Built about 1895, the Band Stand was originally situated infront of the Moses Webster house, about where the horse watering trough is now. A few years later it was moved to its present location where the town band gave concerts for the community. Shortly after WWII a group of men from the Lions Club restored the weather worn structure.
In April 2011 a group of local carpenters and 'handy-men' volunteered time and materials and repaired the Band Stand with a new floor, new spindles and railings, replacing other rotted boards, and adding new lighting!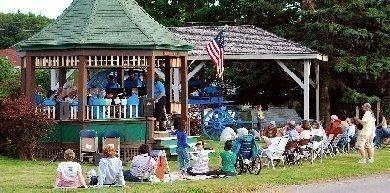 Photo courtesy of C. Blackington